Foundation repair warranty myths cause customers many frustrations. We understand these frustrations and continually work to find best processes to help support our lifetime transferable warranty. We do not charge our warranty customers for inspections, adjustments, or claims.
Here is a list of the five most common foundation repair warranty myths we have learned from our customers:
1) MY WARRANTY IS IN EFFECT THROUGHOUT THE LIFETIME OF THE HOUSE.
Your warranty is only in effect as long as the company who warrantied it is still in business, operating under the same legal name. Which is why you need to ask the right questions before choosing a foundation repair company. Make sure you choose a reputable company who has been and will be operating for a long time.
On a related note Perma-Pier has been repairing foundations for over 20 years and we have serviced over 30,000 commercial and residential projects. We have a solid reputation and choose to maintain the same name and honor our warranties.
2) MY WARRANTY WILL COVER THE ENTIRE HOUSE AND SLAB.
Typical foundation warranties will only cover the actual work performed. If you're a REALTOR reading this, please don't tell your clients that the whole house or slab is covered. A lifetime warranty with Perma-Pier means that we will cover any adjustments to our piers 100%.
3) AFTER THE WORK IS COMPLETED MY HOUSE WILL BE PERMANENTLY LEVEL & I WON'T EVER NEED MY WARRANTY.
This foundation repair warranty myth is claimed by many companies. Beware of any foundation company making these claims. We do stand behind our work 100%, which is why we offer a lifetime warranty. The goal for each repair project is to get structures back as level as possible without causing more damage. However, due to the constant movement of Texas soil, we cannot guarantee your home will not move again. While we are unable to guarantee soils and weather will not cause future foundation issues, we are able to honor our warranty by adjusting any of our piers to help deter further foundation damage.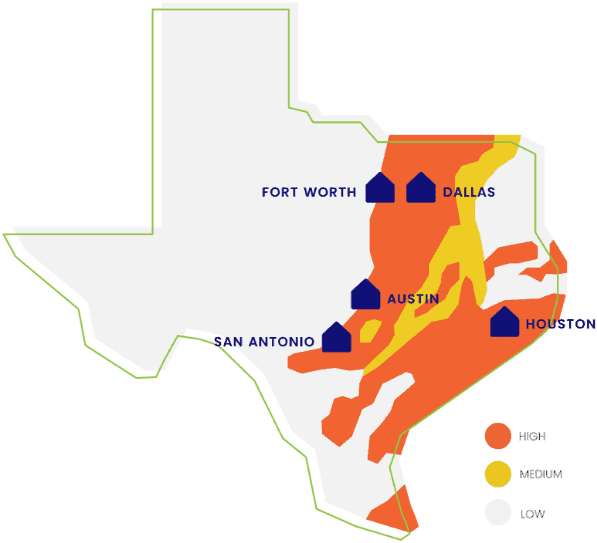 4) MY WARRANTY WILL BE IN EFFECT AS SOON AS I BUY MY HOME COVERED BY AN EXISTING WARRANTY.
Transferrable warranties are an excellent benefit, since they can be passed down from owner to owner. The only requirement is the company holding the warranty needs to know a home purchase has transacted. Within 90 days from the date of closing we need to be contacted to transfer and activate your warranty. Moving is hectic and details can be easily overlooked, so we do have a warranty reinstatement policy. There is a fee associated with this type of warranty. Either way let us help you to ensure you are covered by your warranty in the event you need future repairs.
5) MY WARRANTY IS FULLY ACTIVATED ONCE THE FOUNDATION REPAIR IS COMPLETED.
In most cases after the work is completed a passing (and recent) plumbing test is required before your warranty is activated. Why? Whenever a home is lifted, there is the possibility of plumbing damage. If there is a plumbing leak, your foundation will no doubt shift. Due to this, we require a passed post-plumbing test before any warranty work can be completed and/or transferred. With Perma-Pier Foundation Repair of Texas a post-plumbing test is included in the price during your initial foundation evaluation.
Foundation repair warranty myths can be avoided, as long as the right education is shared by industry professionals. We hope we've helped clear up some confusion about warranties, as well as how to avoid foundation repair warranty mishaps through other companies. Please contact us with any questions you may have.